Perichole Eilers, DDS
I would like to take this opportunity to introduce myself to you all. I am a general dentist who enjoys seeing patients of all ages, and am excited to bring new technologies and techniques to this practice. My favorite aspect of dentistry is creating a comfortable environment with individualized care geared toward your needs, and I am looking forward to getting to know all of you.
I grew up in Rochester, New York, where I received a Bachelor of Science degree in biology from the Rochester Institute of Technology. I then continued on to the State University of New York at Buffalo, where I graduated in 2006 in general dentistry with a concentration in pediatric dentistry. I then went on to study at the San Francisco Veteran's Hospital, where I completed a General Practice Residency to expand my knowledge of root canals and surgical techniques.
Staying in the San Francisco area, I then went on to work in private practice in Silicon Valley for 5 years, where I became passionate about modern dental techniques that allow me to practice conservative (minimally invasive) dentistry. I moved to the Boston area in August and have been working here and getting to know the area.
Outside of work, I have three small children that keep me busy much of the time, two boys and a little girl ages 7, 4, and 2, and a wonderful husband that I have been married to for almost ten years. My family and I most recently lived in Germany for four years, and all learned to speak German while living there. In my free time, I enjoy quilting and exploring nature with my family.
Meet Our Team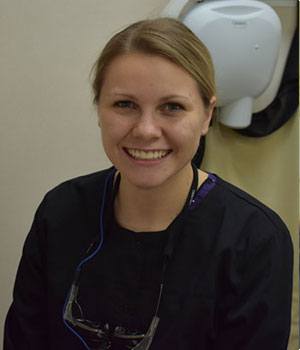 Kimberly – Dental Hygienst
Kimberly began working for Dr. Eilers in 2017. She loves playing with her niece and enjoys hiking and being with dog and cats. The best part of her being a part of Watertown Family Dental is the great environment.
---
Ashley – Receptionist
Ashley has been with the Watertown Family Dental family for over two years, and she especially loves being able to check up on patients she hasn't seen in a while. She is proud to announce that she recently had a baby girl!
---
Kerstin – Dental Assistant
For over three-and-a-half years, Kerstin has been assisting us and helping our patients leave with great smiles. She also speaks German and can help any patients with that language barrier.
Kerstin has two amazing kids that she loves to spend time with.
---
Shennelle – Dental Assistant
For over three years, Shennelle has been serving our patients at Watertown Family Dental, and we love working with her. Outside of the office, she loves to take care of her cats and her plants.